Sheet Metal
Economy Air Conditioning and Heating, Inc.'s Sheet metal division is dedicated to providing you with quality metals and best-in-class craftsmanship for any project, no matter if it's small-scale and domestic, or large-scale and industrial. We aim to operate with peak promptness, professionalism and to retain our human element throughout the entire process.
Our team can provide professional and personal service at a great rate, we have a great team of subcontractors to complement any job, to ensure that the job - any job - exceeds the highest of expectations. Our technicians gained their expertise both in trade schools and while working hands-on, meaning they're prepared for just about any situation that comes their way - and we're sure you won't regret counting on them.
We handle both large and small jobs with ease, not to mention custom HVAC sheet metal fabrication projects. We have experience in tenant finish, rooftop change-outs, new rooftop installations, exhaust systems, make-up air units, ventilation systems, and customized design-build HVAC systems. Being members of the Air Conditioning Contractors of America and the BBB ensures you that we are a reputable company dedicated to you, the customer.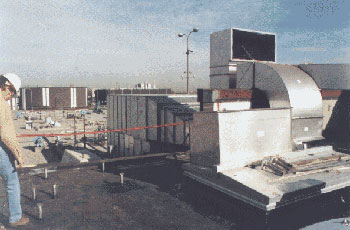 HVAC Sheet Metal
Our HVAC sheet metal division has the ability to create custom ductwork, intricate ventilation systems and truly customize your HVAC system to maximize efficiency in any space.
Sheet metal fabrication can be a very important piece of the commercial HVAC system installation process. In many cases, ductwork must be customized to correctly fit your building or you may be losing lots of money due to an inefficient system. With our wealth of experience, we can design and build custom HVAC ductwork that is as efficient as it is discreet. Saving you money in the long run and adding to the overall aesthetics of your space.
Large projects we order the ductwork, however when you need a fitting now we can do it.
At Economy, we have a dedicated team of HVAC sheet metal fabricators and installers on staff. Our HVAC sheet metal team works hand in hand with our HVAC technicians to ensure the job gets done right and on time, the first time.
Mechanical Division
Need to expand on this!
As a diversified mechanical contractor, our projects range from refrigeration, gas, steam, water, and process piping. The installation of boilers, chillers, heat pumps, cooling towers, flat plates and all assets of "wet-side" building systems.