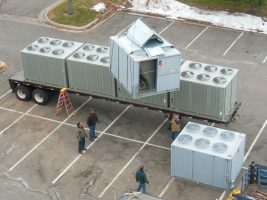 It can cost up to $10,000 for an HVAC system installation to service an average home in the United States. Paying a simple annual inspection and routine maintenance fee of around $100 seems like a no-brainer.
So what about commercial properties? Many businesses choose their best commercial HVAC contractor to help ease their maintenance burden. Some examples include:
Hotels and Lodges
Department Stores
Government Facilities
No one wants to sleep, eat, or shop in an environment where they feel uncomfortable.
It has even been shown that customers will stay longer and spend more money in a business with a comfortable temperature and air quality. Thus, the preventative maintenance might pay for itself and then some.
Let's look at why hiring a commercial HVAC contractor is a wise investment for your business.
Why Hire a Commercial HVAC Contractor?
While it may not always be the case, you can enter a preventative maintenance contract with a commercial HVAC company. This alleviates your worries and leaves you available to run your business without worrying about persistent air conditioning and ventilation issues.
Those callouts can and should be written into the contract for outlying emergencies. Otherwise, a commercial heating and cooling contractor will send a certified HVAC technician to complete regular preventative maintenance on the schedule that you agree upon.
The list of everyday things to check is often called a "Schedule A," which is a standard list in most contracts.
What to Look For in a Mechanical HVAC Company
Mechanical HVAC
contractors are an example of a business in which customer reviews are fairly accurate. They tend not to skew toward the negative.
If a business has entered a contract with a heating and cooling company, the best commercial HVAC contractors must put a significant amount of "skin in the game," if you will.
As a result, they are much more likely to give accurate advice about the HVAC services that a potential HVAC technician provides. If you are curious about the HVAC technology that any certain commercial heating and cooling technician is especially well versed in, customer reviews are a great place to start.
Other customers can also speak with some authority about whether or not a commercial HVAC company provides reliable services or common HVAC mistakes they may be prone to commit.
Proximity and On-Call Policy
It stands to reason that any commercial HVAC company you choose will need to be done with some consideration of their proximity to your business. Their ability to arrive quickly to make any emergency repairs is important.
You should also discuss the commercial HVAC contractor's on-call policy before entering into an agreement with them. Prompt response is often vital.
Do Your Homework and Know What You Want
Before you call a commercial HVAC contractor, you will need to do your homework do ensure you're picking the best commercial HVAC contractor. Do enough homework to have a passing knowledge of the terminology. Read customer reviews and make sure that you contact a reputable commercial HVAC company.